Mentoring Support

The Mentoring Foundation exists to support the development of LEADERS in the community sector in order to strengthen the communities they serve.
The Mentoring Foundation is now looking for another intake of ten individuals who are seeking a mentor to help them with their leadership development within the community sector.
What you need to know
six month time commitment
training provided for both mentors and mentees at the start
support during the six month process
new mentoring IT platform that supports the process with reminders and easy to access resources
registration fee $150 (including GST)
To register your interest complete your details here
Business Mentors New Zealand (Business in the Community Ltd) and Venture Taranaki have come together to collaborate in the Community Mentoring programme in the Taranaki region. Groups and organisations needs are matched to the skills of the mentor for best results. After registration the mentoring is free for up 12 months, volunteered by your experienced Community Mentor.  For more information contact Kayleen at Venture Taranaki by clicking here 
There is a one off registration fee of $225 +gst ($258.75)
1-2-1 Support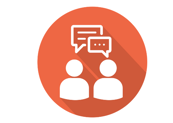 Sometimes you may need a listening ear to run your idea by or need specialist dedicated support - we have access to range of people who can help. Depending on your need this could be at no cost or on a paid consultancy basis. In some cases funding maybe available to cover costs.
If you would like to discuss your mentoring or support requirement please click on the button below.