About Us
The Wheelhouse - A partnership of like minds.
The Wheelhouse is a partnership of eight Taranaki capacity building organisations.  Representatives from each of these organisations make up The Wheelhouse Capacity Building Group and meet on a quarterly basis.  BAF acts as the backbone organisation and employs The Wheelhouse Manager on behalf of the Capacity Building Group.   If you would like to find out more about this unique partnership please contact The Wheelhouse Manager via the contact page
Taranaki is a place of social innovation and change, with a strong history of community action.
Building on this legacy, a conversation was started about how our community could be more supported. A community incubator was born, seeking to develop and brew new ideas to take them to completion. Organisations were invited to this conversation and haven't looked back.  The Wheelhouse is a product of this innovative conversation.
What's in the name?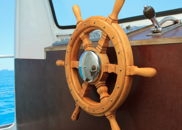 The Wheelhouse refers to the location of the steering wheel of a ship. It's where the crew come to discuss where they are going, what they need to do to get there and any problems they may need to consider. It's also where plans are kept and navigation resources are used.
Occasionally ships will approach unknown waters. At this time often a pilot will come on board to help guide them through.
Like a wheelhouse our aim is to help Taranaki community organisations have important conversations about their direction.  Like a pilot we  assist the crew for a short time to navigate through unknown waters.
We are about empowering you to make a difference in your community.
Helping good people do good things better!